Company Name: Japonte Ltd.
Representative President: Noritaka Eguchi
Address: L14 Hibiya Central Bldg. 1-2-9 Nishi Shimbashi Minato-ku Tokyo 105-0003 Japan
Phone: +81-355328075
Mail:

Business area: Export of foods and ingredients, Development of food value chain, Business consulting
Target category: Traditional Japanese dry foods, Japanese marine products, Japanese tea, Japanese liquor
Consulting area: Carbon neutral strategy, Oversea business development, Human Resources
License: Export liquor wholesale license, Online sales of imported liquor (National Tax Agency)
Membership: The Tokyo Chamber of Commerce and Industry (C2718510), Whole Food Association
Let's make a good company for all employees!
Our company belongs to all the employees working at Japonte. We provide a place where employees can cherish each day, work with harmoniously with colleagues work for a lively society.
We want to contribute to society in various fields such as environmental improvement, employment, tax payment, support of the arts, sports, technology development, and regional development, by creating a company that makes employees feel happy at the same time.
We will do our best to continue serving and impacting our society.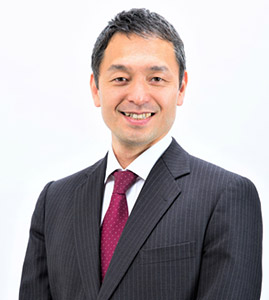 NORITAKA EGUCHI
Born in 1972, at Karatsu-city, Saga in Japan. Joined BASF in 1994, and held various positions for 23 years in domestic vitamin sales, business integration projects, regional manager in Asia Pacific regional headquarters, Chemicals division head and HR director.
His interests are health, food cultures, Zen and sports.