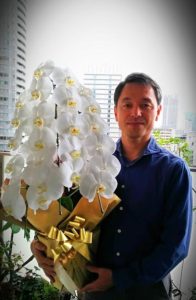 It's time for Japonte Ltd. to set sail for the journey.
In order for more people to live healthily and lively in the future, it is essential that more people understand the importance of daily diet and that the food value chain becomes more sustainable. In addition, there are many wonderful and unique food ingredients and food culture all over the Japan. By cherishing such treasures and sharing it with more people, we would like to concurrently contribute both to people's health and to the maintenance and development of the Japanese food culture.
With setting "Creating health value from Japan" as a long-term theme, we will reaffirm our good food culture in Japan and disseminate the understanding in the world. The company name, Japonte (Japan + Ponte) has been set by our wish that we bridge over borders and generations, with treasures of Japan.
We do our best to progress steadily our activities while thanking your cooperation.
Noritaka EGUCHI
September 7th, 2017